When you live and you cook…
Brigadeiro is heaven on earth. Is the one part of my Brazilian culture I think the world should know about and every person on earth should know how to do it!
It's name is said to originate from a tribute made to Brigadeiro (an position in the army) Eduardo Gomes, but nobody actually knows the truth about it.
As a girl with severe PMS problems and a crave for sweets, Brigadeiro is the salvation of my days. The recipe is sooooo simple you wouldn't believe it. Lately it has been Gourmetized with nuts, alcohol and weird stuff, but the original one is, for me, the best.
The most amazing thing about this candy is that you can do a lot with it. From little balls covered in sprinkles for a party, in small shot glasses to serve with a spoon, filling or cover for a cake, eat it directly from the pot or put it with ice cream, you decide. Brigadeiro is your best friend!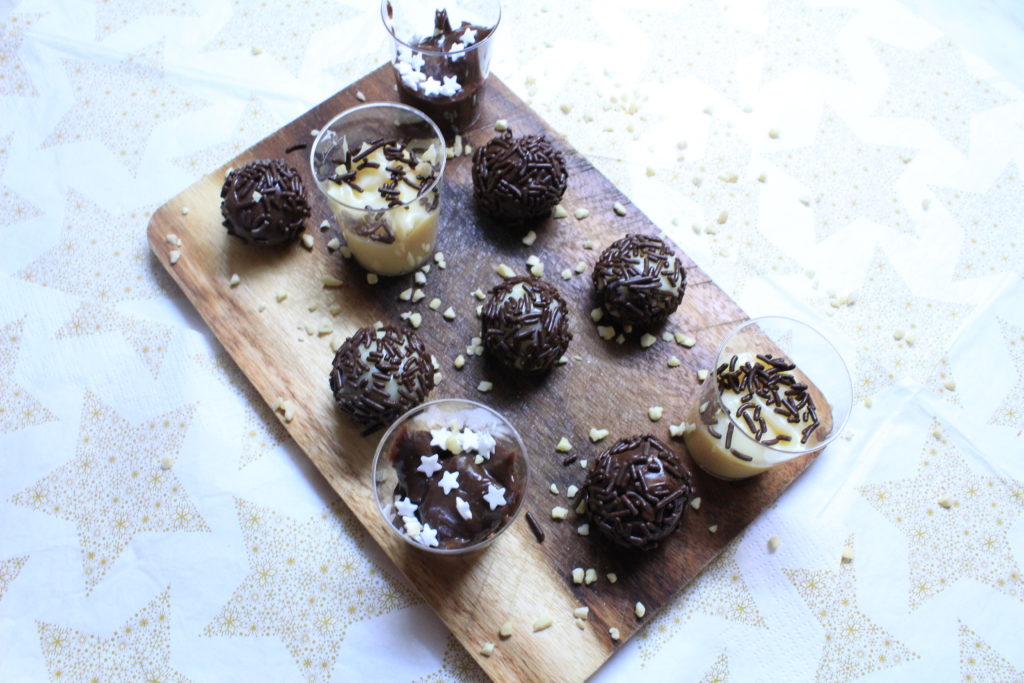 I will give you the basic recipe for two versions of it: the white and the black one. The only difference between them is the cocoa powder. Said so, you can start doing the white one, and turn half of the recipe into the black one adding the cocoa, then you will have both with one recipe.
All you need is:
1 can of Condensed milk

1 tsp of Butter

3 to 4 tsp of cocoa powder, depending on how strong you like it. Pay attention, if you are doing only half of the recipe black, to also put less cocoa.

Sprinkles
How to:
You can do it in the stove or on the microwave.
Stove
In a pot mix the condensed milk with the butter and cook it in low heat until the point where when you see the bottom of your pan when going through it with a spatula, like in the picture below. It takes around 10 minutes to make it.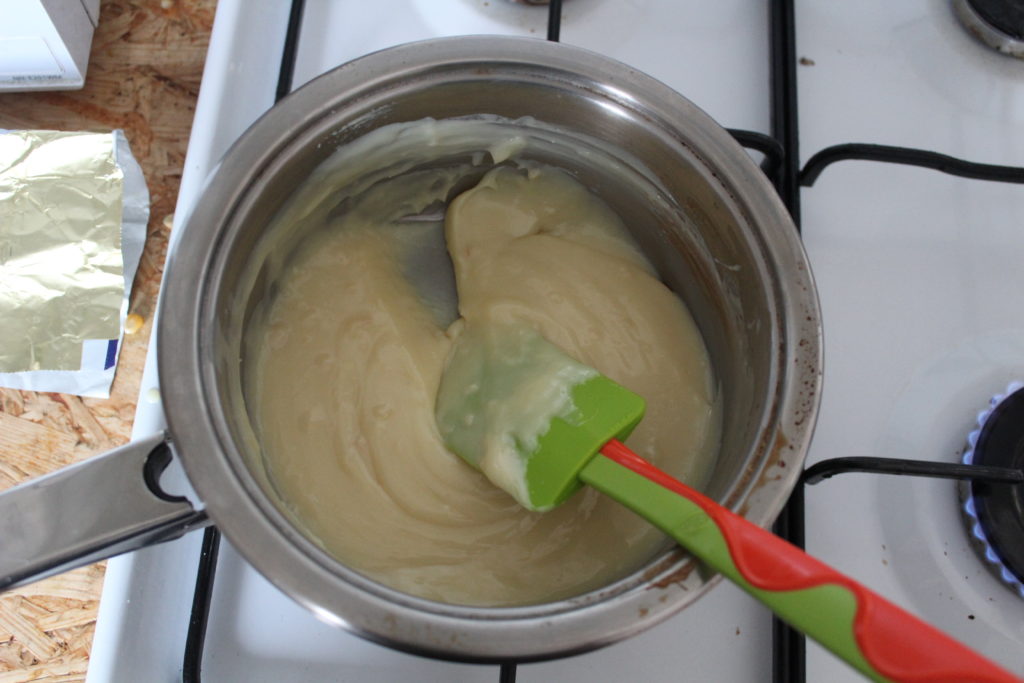 If you want to do the black version just add the cocoa powder from the beginning, or in this step, little before it is completely cooked.
Microwave
Mix the butter, condensed milk and cocoa powder on a glass bowl (that can go on the microwave) and cook it in rounds from 2 to 3 minutes in an medium heat, mixing every time in between.
The bowl must be really tall as the mixture will grow fast and make a mess if you are not paying attention.

To use the Brigadeiro as a filling or cover for a cake, add in a little bit of milk to make it a little bit easier to work with.

Put the candy on shot glasses or the form you want to work with or let it rest on a plate until it cools down;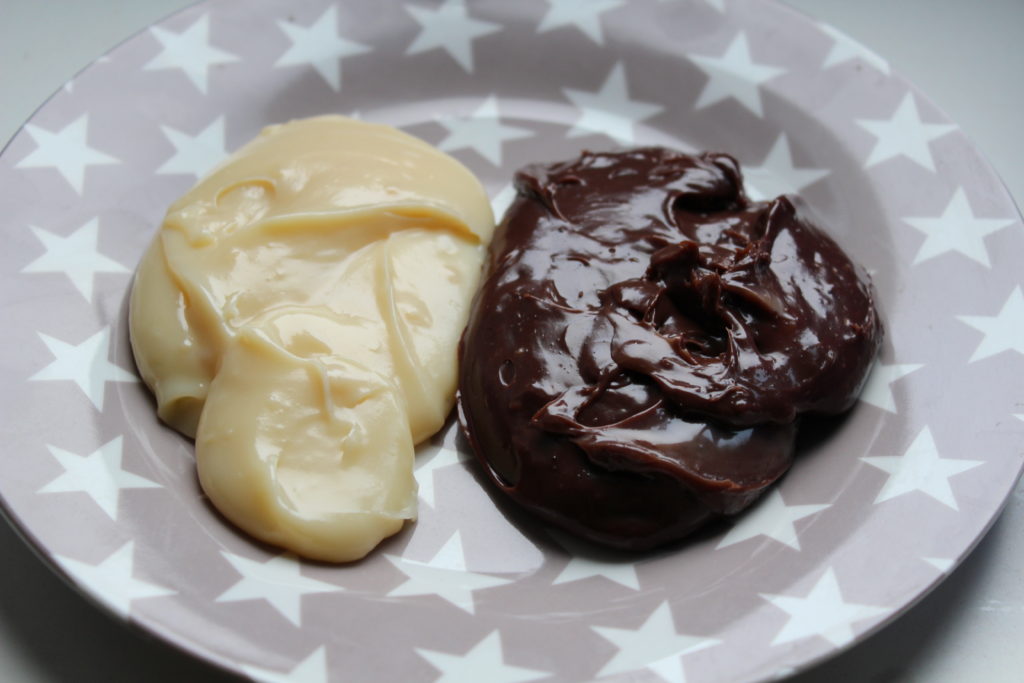 Once it is cool butter your hands and start forming little balls then decorate them with sprinkles. My favorite are the colorful ones, but the chocolate sprinkles will do the job just as fine;

Present them in small paper forms or on a nice dish and voilá you just made the best candy ever!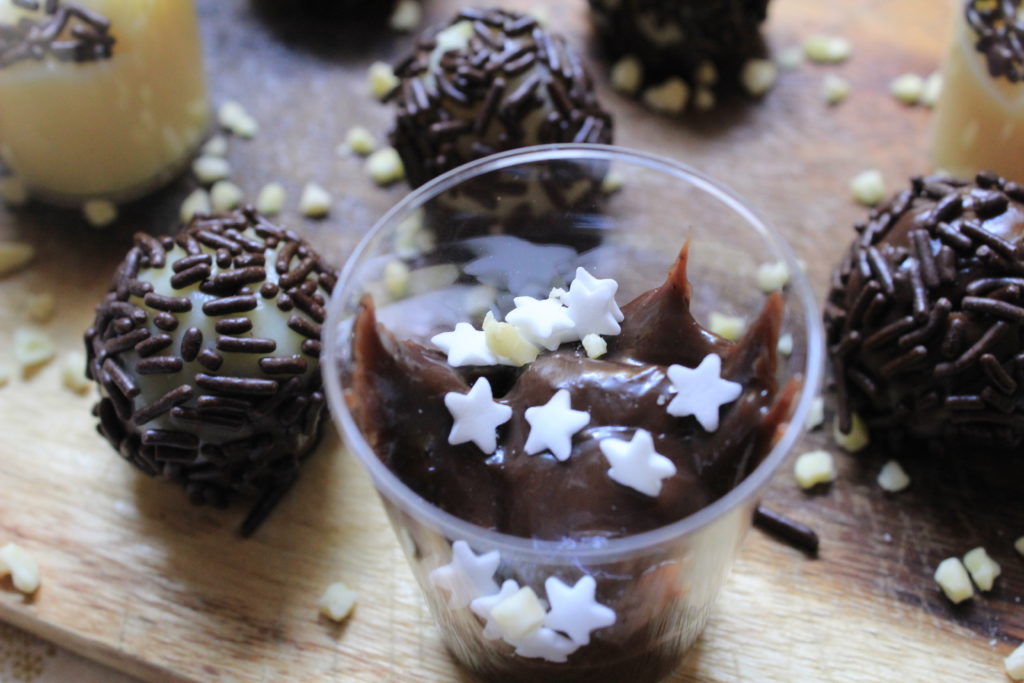 With time (I can assure you you won't do this recipe just once in your life) you will gain experience and know when the consistence is right or at least the one you like more. It also goes for the amount of chocolate, if you like it sweeter you can also use sweetened chocolate powder, or even add white chocolate to the white one, it is now at your criteria!
This is also really fun to do with kids when you are doing the little balls, but speaking from experience, half of it won't even make it to the plate 😉
Let me know how do you like this recipe and let me see your creations on Instagram adding the #whenyouliveandyoubake and #whenyouliveandyoucook. Welcome to heaven!