We are on our way!
Finally the day is here! We packed ourselves some sandwiches for the way. Ok a lot of sandwiches, because we didn´t know what to expect from the Ferry, as it is not a cruise ship, we didn´t know what to expect, so we packed enough to survive 2 days.
We got a car in the airport (Schönefeld), because Buchbinder was the cheapest provider, and there booth only  is there. The car prices were pretty much the same in all providers we looked, for the category we wanted, but in Europe you have to pay extra if your are travelling out of the country you are renting from and they might also have an extra problem if you are going to Eastern European countries. So this renter had the best price per border cross and , given the higher number of cars stolen.  For 11 days with the car we paid 275 EUR, plus 10 EUR per border we were going to cross (40 EUR in total).
Normally the security insurance depoist would be 1000 EUR, that would be blocked from our credit card, but we didn´t checked it before hand, and our limit was way lower than that, so we had to pay an extra 300 EUR to get the card and only block 200EUR from the card. Let this be a lesson! Always read the contract.
With that said, we ended up getting an amazing car ass the guy pittied us for a moment. It is a Ford Focus Kombi, automatic, with cruiso control all full with this technology we don´t understand half of, but it is AWESOME!!!
Afte about 3 1/2 hours in the Autobahn, we arrived in Travemünde directly on the ferry line. Thank god we brought the sandwiches! The ferry has food but only specific hours which are limited to up to 2 hours per meal, like breafast was from 08:00 to 09:30, lunch from 12:00 to 14:00 and dinner from 19:30 to 21:00. They also have a bar which has some snacks, and a really cheap duty free shop, concerning alcohol and perfumes. But, anyway, the sandwiches are a good idea.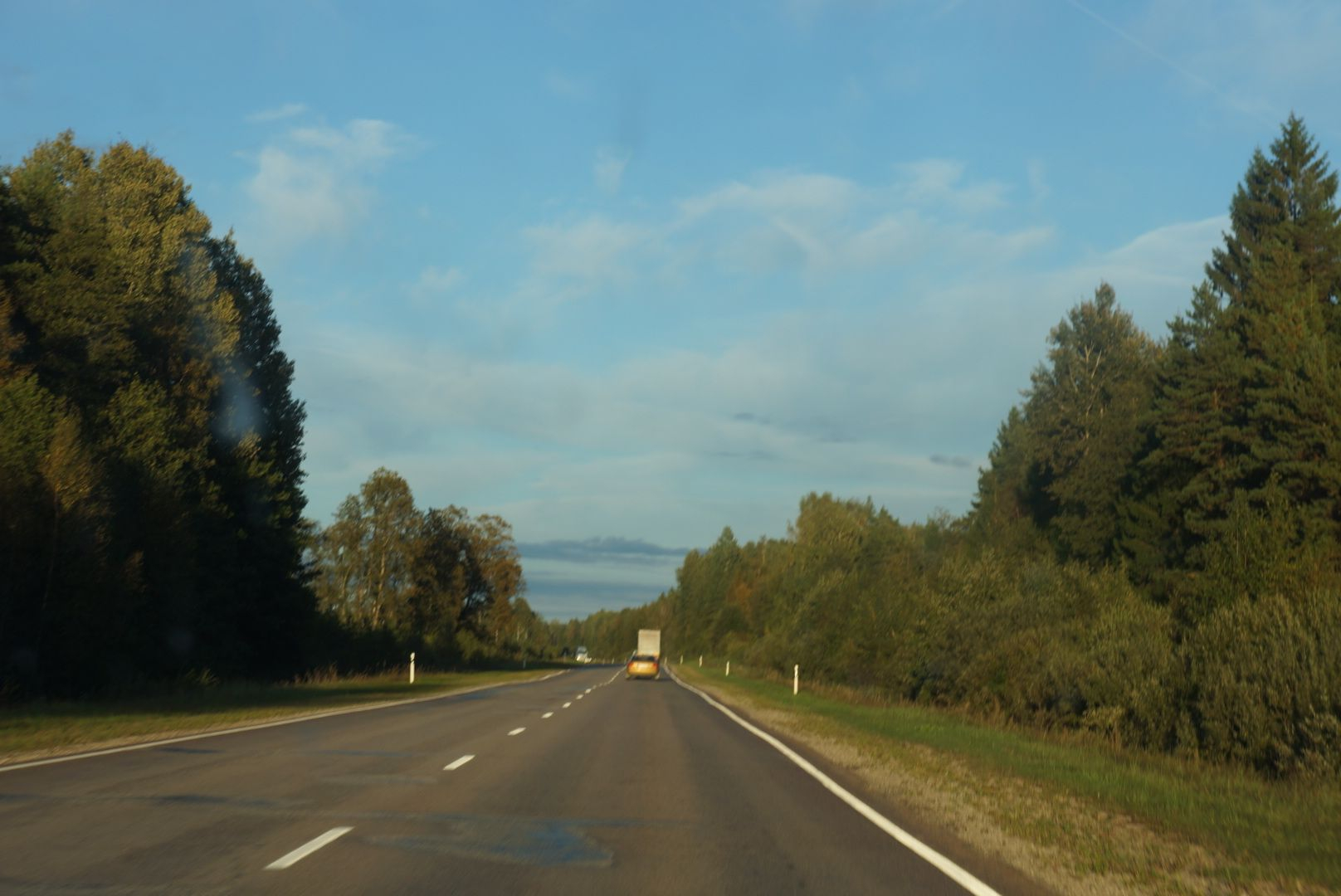 Apart from that, the ferry has Wi-fi, which is a good idea – given that no mobile provider in the world has connection in the middle of the sea, and some TVs on the lobby where some people will be sleeping. Luckly for us, we booked a cabin, where we spent most of our time. UNO and beer saved us from our boredom, the time we were not sleeping. I highly recomend taking something to spend your time with.
What really surprised us was the price of the bar. I was waiting something like airport prices, but it was really cheap. The beer (0,5L) was 2,80 EUR, a bucket of peanuts was 1,50EUR and even the Toblerone, one of my favourite chocolates was 1,50EUR. Not even in Italy (where they are produced) they are really cheap. I have high hopes for Latvia now.
For the ferry itself we paid 275 EUR for 2 people, including an exclusive cabinet for the 2, which had 4 beds, bathroom and shower. All the linen and towels were also included.
The second surprise of the trip is that we found out Latvia, Estonia and Lithuania are one hour ahead of us (Germany). I really didn´t think about that before. Lucky for us the time displayed on the ferry was always the current time in the country we were, so we arrived at the time we were planing to.
Our first stop was Ventspils. We didn´t see much of it, but the wheater was amazing, the sun was just setting down and the city is so cute, filled with cows everywhere, but unfortunately we didn´t get to the bottom of that. Also everything is extremely clean, there was nothing but yellow leafs on the floor.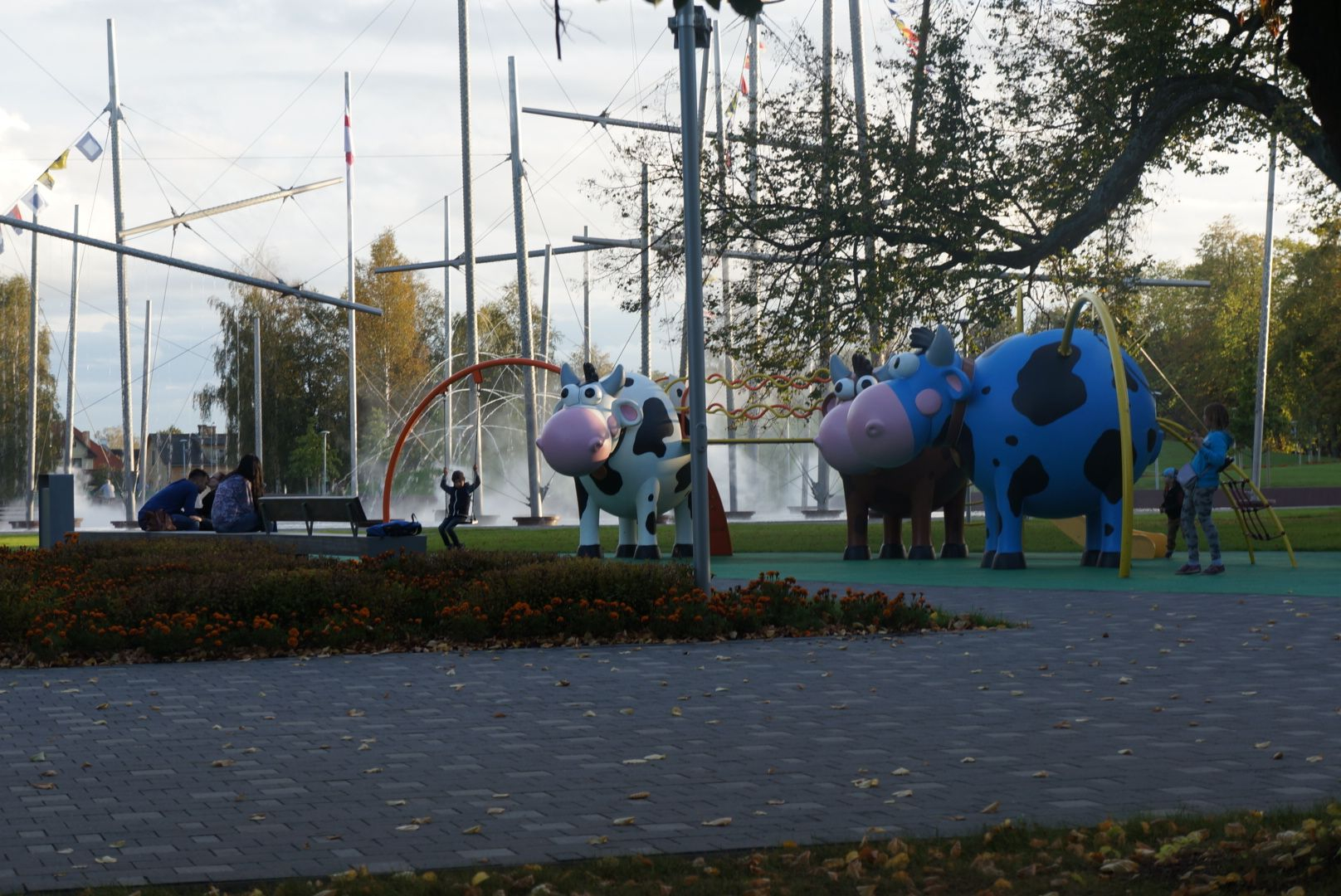 Back to the road again, it took about 3 hours to get to Riga as a huge part of the road is under construction, but the full moon we came across was something no words can describe, and pictures just not cut it. But there goes a new tip: If you are planning to spend a horrendous amount of time in the car, prepare a playlist, because radios can often get boring! But I will tell you more about that later.
We made it to our hotel in Riga, and are ready to start our adventure here. Keep following us throughout Eastern Europe in the next post…