If you grew up in the 90's like me, there is no way you never sang along to "welcome to the jungle" or "Sweet child O'mine", so you also know Guns N' Roses are a classic! 
So imagine how excited I was to see them live for the first time ever. So check out my impressions of the " Not in this lifetime tour" opening concert in Berlin.
Date:  03.06.2018
Price:  35 EUR (Live Nation promotion) – Original price : 80 – 140 EUR
Location: Olympiastadion Berlin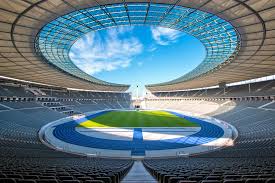 Overall score  

♠

♠

♠♠

♠

Beverages and food 

$$$$

$
Sound ♥

♥♥♥♥

Separated smoking area YES /

NO

Public transportation access 

YES

/ NO
Capacity 74.475 people
 Support acts
Guns N' Roses - Not in this lifetime tour 2018
It's So Easy

 

Mr. Brownstone

 

Chinese Democracy

 

Welcome to the Jungle

 

Double Talkin' Jive

 

Better

 

Estranged

 

Live and Let Die

 

Rocket Queen

 

Attitude (Misfits cover)
11. This I Love


12. Civil War
13. Slither (Velvet Revolver cover)
14. Slash Guitar Solo
15. Speak Softly Love
16. Sweet Child O'Mine
17. Wichita Lineman
18. Used to Love Her
19. Wish You Were Here
20. November Rain
21. Knockin' on Heaven's door (Bob Dylan cover)
22. Nightrain
23. Patience
24. Paradise City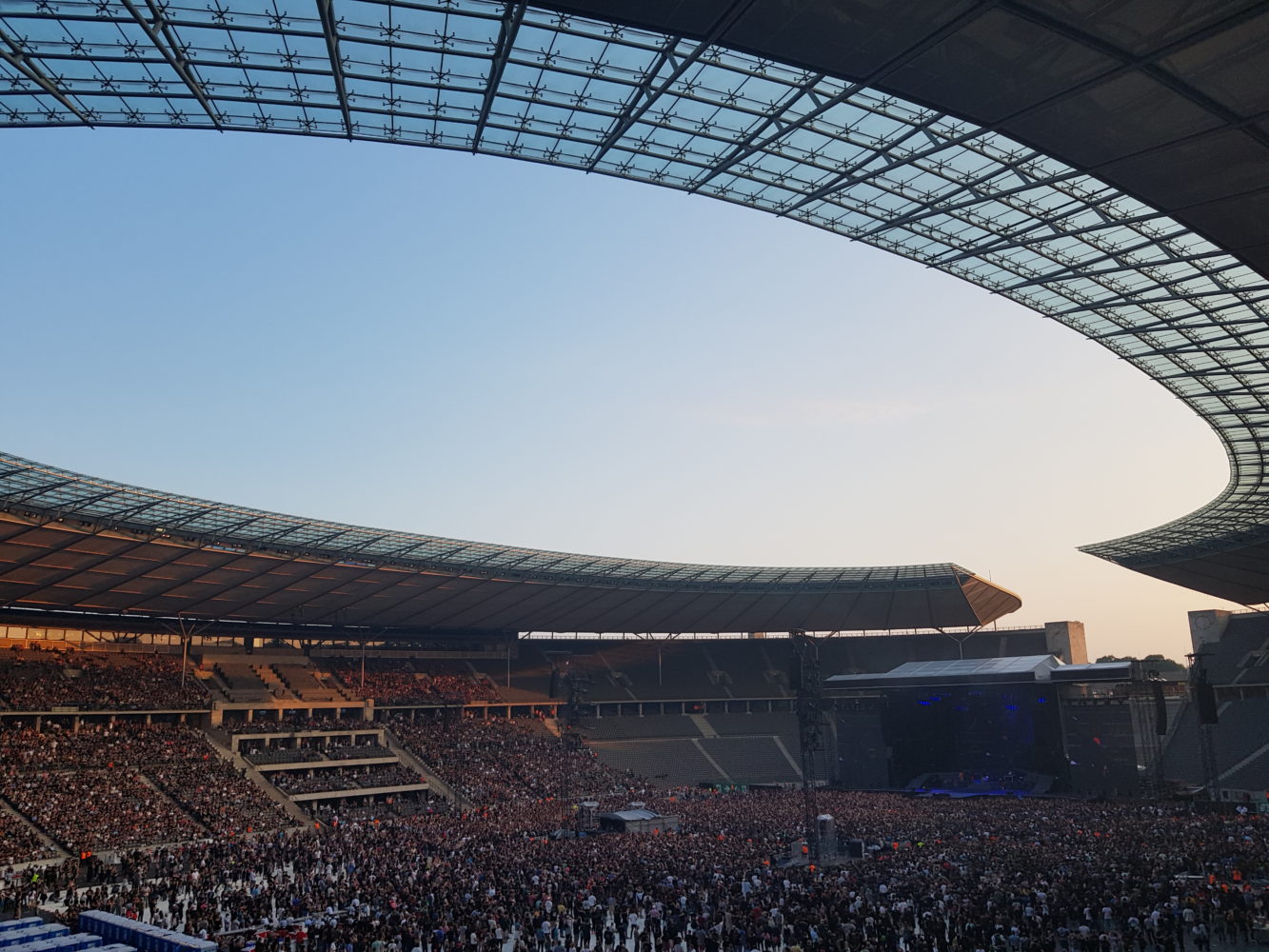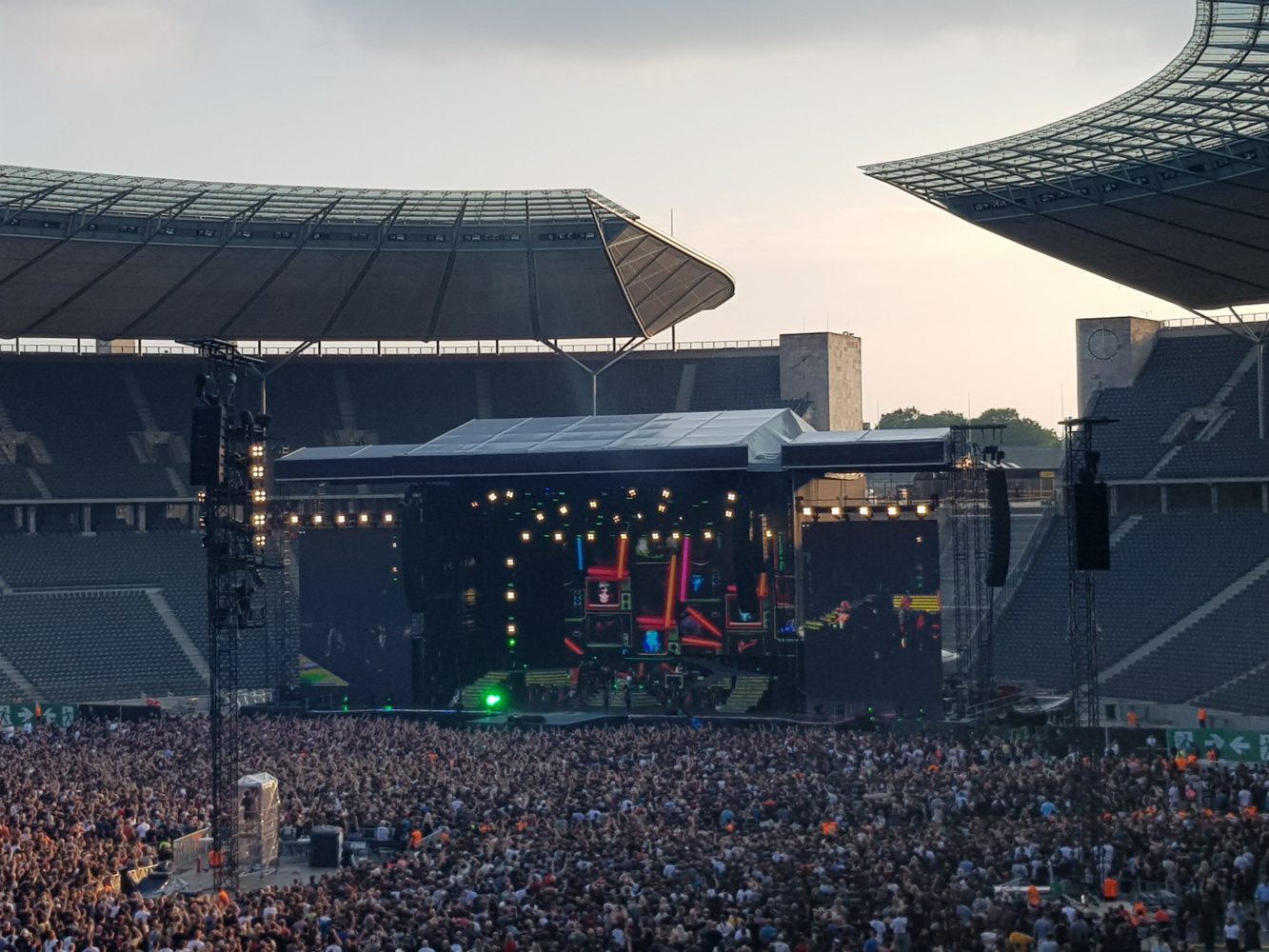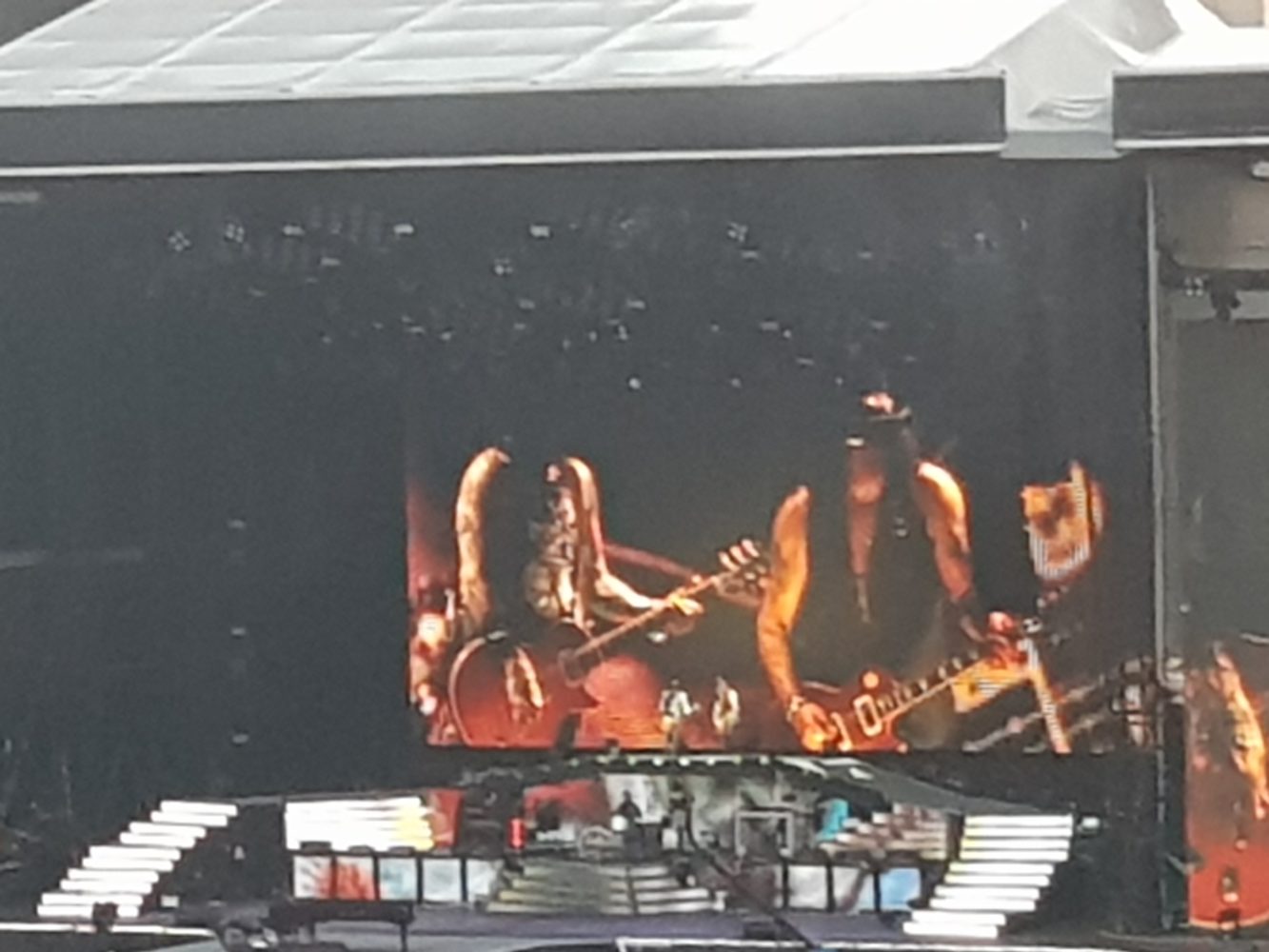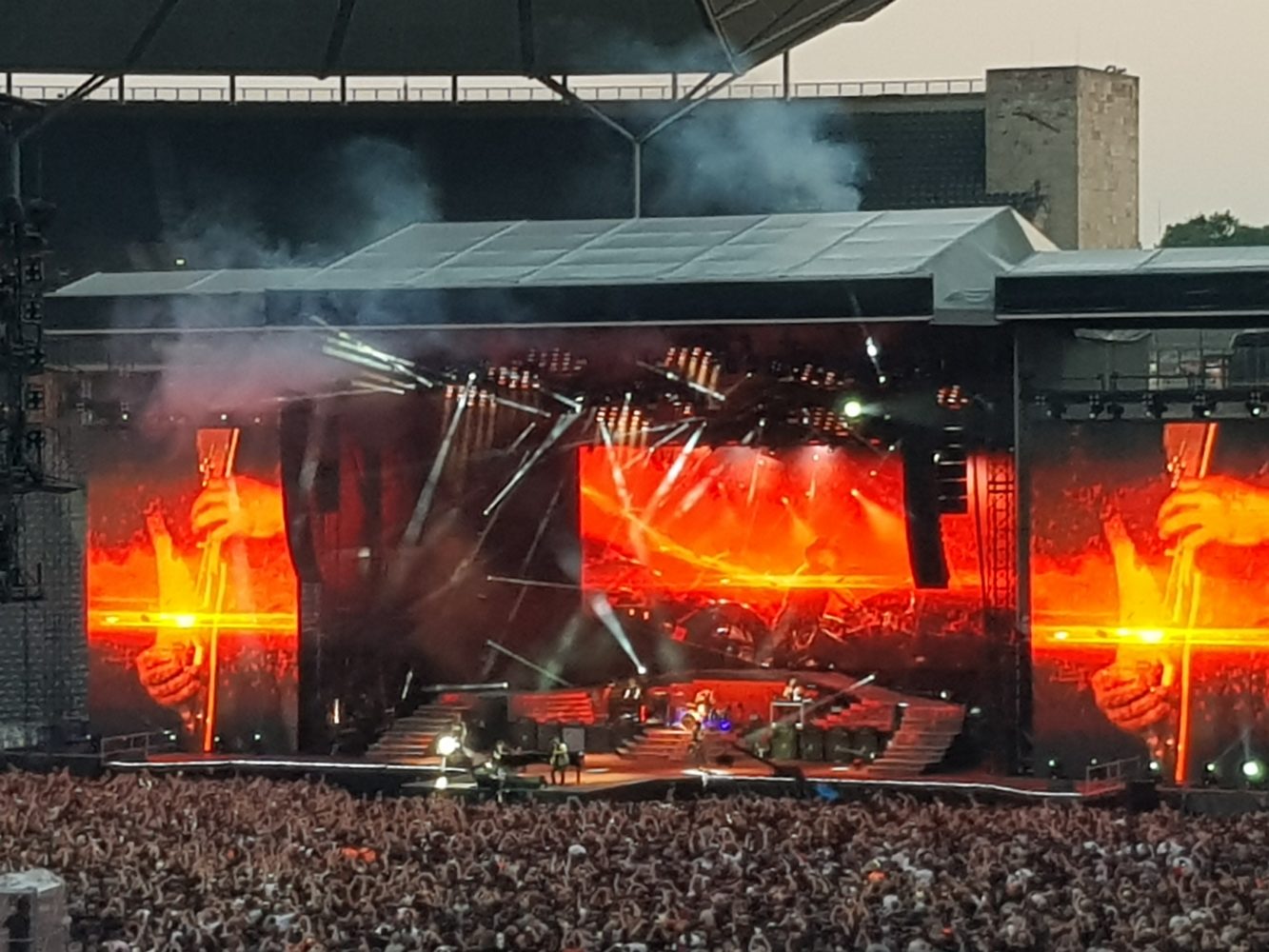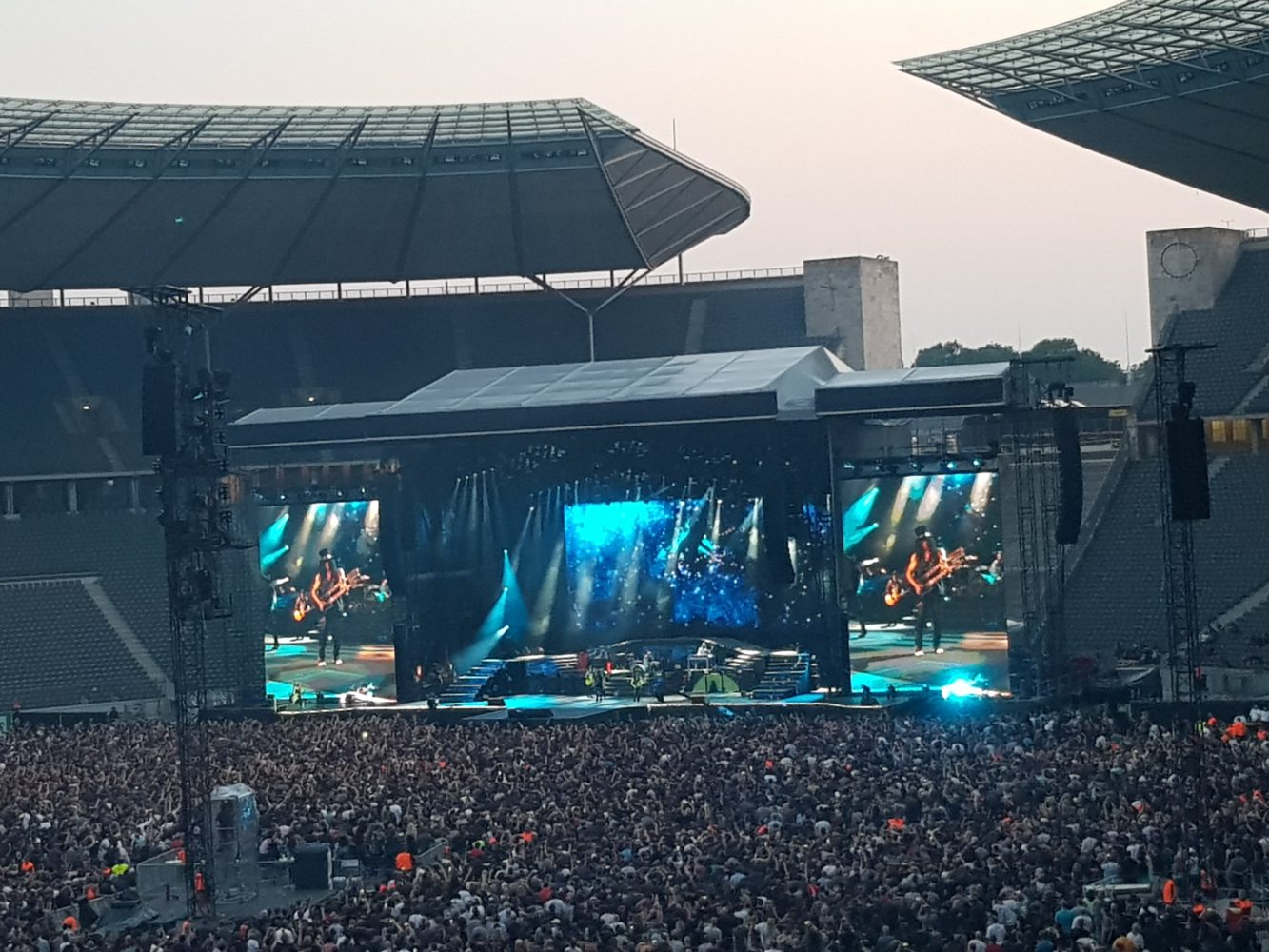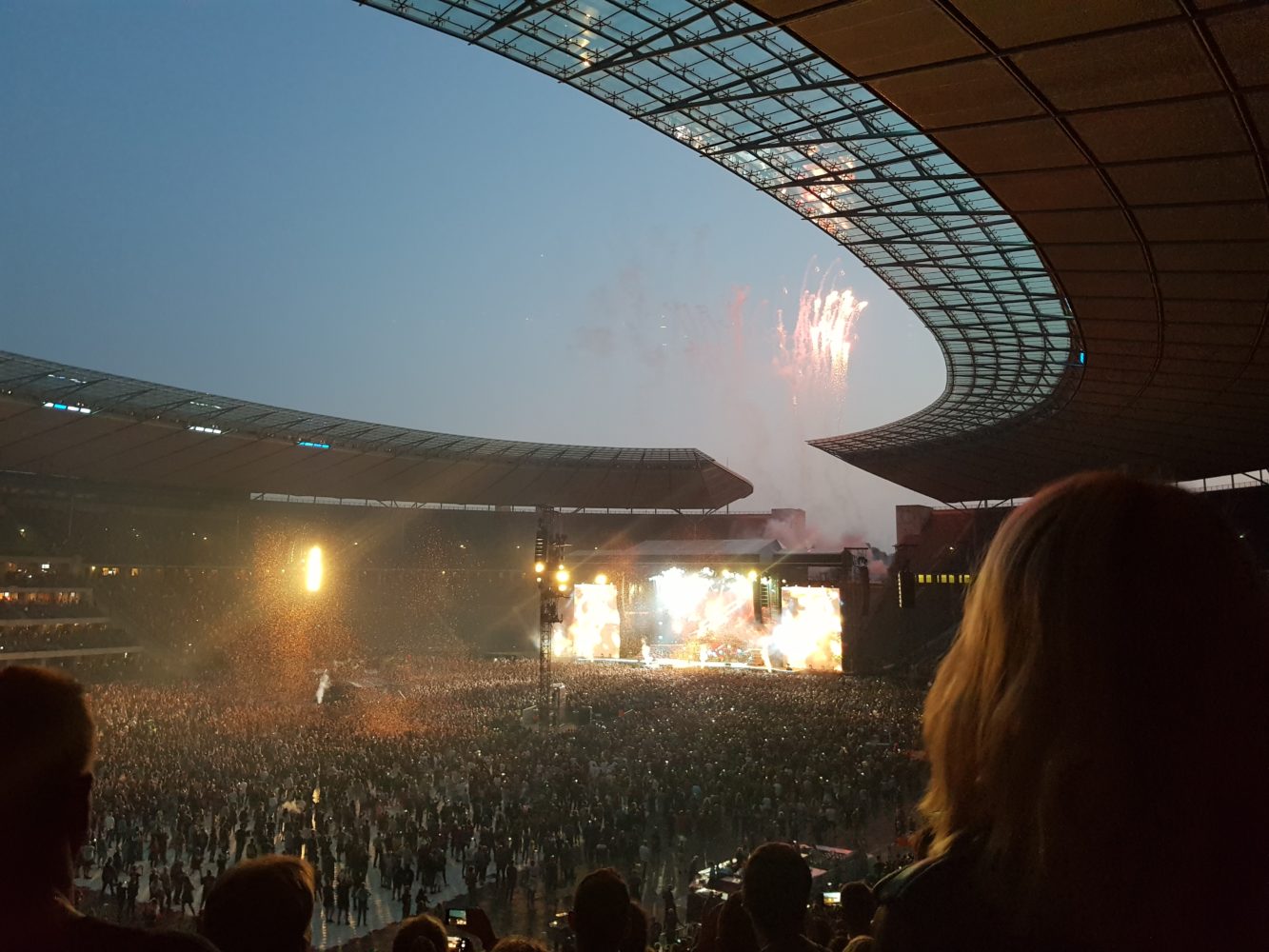 Take a sit, this is gonna be a long one…
My favorite part of these classic, huge concerts is while I wait outside the venue and see how many different people can be brought together by music, from kids to the elderly, normal people, weird people, people who are crazy enough to have Axl Rose (in his good years) tattooed on their legs. 
I also enjoy to see how people are having fun and how drunk they get beforehand, which also makes me think what they do for a living to get drunk paying 5 to 8 EUR for a drink!!
Surprisingly, the venue was not even half full, as you can see in the pictures. Their first official tour in like 25 years and this is what they start with???
Ok, tickets were quite expensive, ranging from 80 up to 140 Euros. But, Iron Maiden is also Playing next week in Berlin for 90 Euros the cheapest ticket and it is completely sold out!
As for the concert itself, I am gonna make it as short as I can because well…I was waiting for more, much more!
I got lucky on a "Live Nation" attempt to get more crowd to the Guns N' Roses concert , so I only paid 35 EUR for a sitting place on the back of the stadium, but, lucky me, under a sound box, which made Guns N' Roses sound, to say the least, loud!
My Impressions on the concert itself:
DISAPPOINTING is the right word to use here. It was the first show of their reunited tour, on an amazing sunny Sunday in one of the most beautiful stadiums I have ever been to, but the scenario was poorly done, and let's be honest between Axl Rose and Slash they have aged around 150 years, definitely not the cute 20 something lads every girl (and even guys) wanted to fuck at the time, which of course is nature, but the chemistry between them is just not there anymore.
Axl Rose's voice cannot reach the same notes and the interaction with the public was minimal, there was no feeling of belonging or this amazingness you get when you can feel the music vibrates in you. The best part was Axl's Rose clothes, that looked like he was still 20.
Slash can still do killer solos, but quite predictable. Although I was lucky to be under a box the sound before the stage seemed to be horrible and all reviews so far had nothing really good to say.
But, I like to see a good side on everything. I was really happy they played every single classic song I was waiting for (check the Set list) and ended with "Paradise city" and some confetti and fireworks.
Sadly, not all the people stayed to the end.
I would definitely NOT recommend it, but I was lucky enough to have the chance to see a childhood crush band before they died or separate again.
So, if you think you won't have another chance of seeing what once was a great band, GO FOR IT!