When you live and you spend a weekend in Warsaw…
It has been a while, but for valentine's day my boyfriend surprised me with a trip to the unknown. Well, it was unknown to me until we got to the train station and finally found out we were on our way to Warsaw!
We took a really early train and within 5 hours throughout beautiful landscapes and the sunrise we reached Warsaw. I've been wanting to go there for a long time and heard some amazing things about the city. What they didn't tell me was that it would be the most freezing weather I have ever experienced.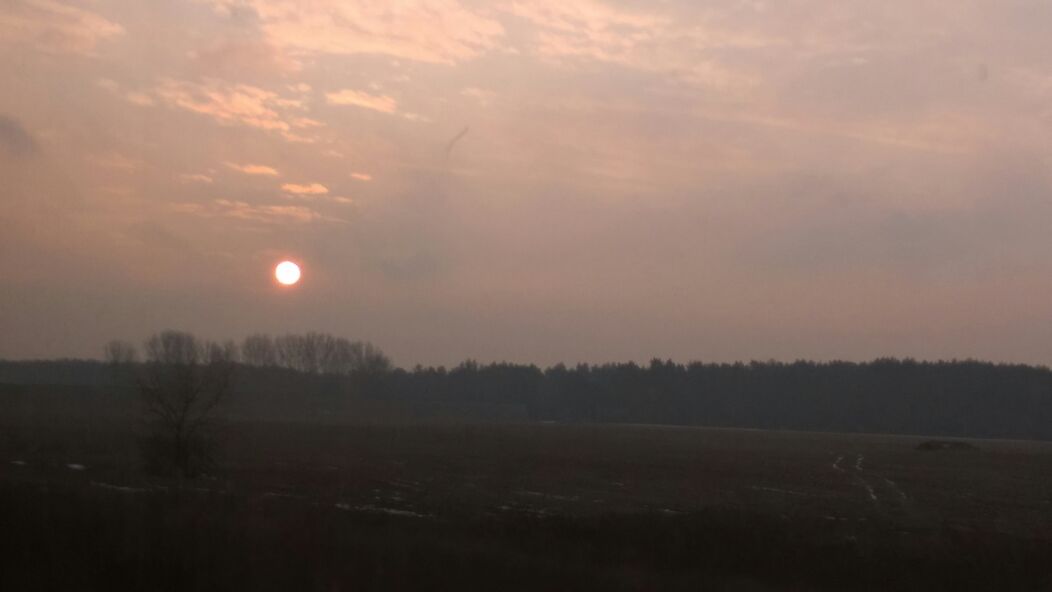 Right next to the central station you can find the tallest building in Poland, the PKiN or Pałac Kultury i Nauki, in english, the Palace of Culture and Science of Warsaw (see first picture). We were astonished by it's beauty but decided to leave the visit for another day as we were really tired.
Warsaw is an rather small city where you can easily walk anywhere (when the wind is not trying to turn you into an ice cube) and that's what we did, in 10 minutes we were at our amazing hotel, yet another surprise, we stayed at the Mercure Grand, an awesome 4 star hotel, with king size bed, a weird shower cabin in glass showing to the room and my favorite part of hotels, the BREAKFAST.
After a well deserved nap we decided to explore the city we have heard so much about. The cold didn't help but we reached the city center to a typical polish restaurant. Pierog, one of the most typical polish foods, it's a sort of dumpling filled with the either salty ingredients such as cheese, meat or spinach or sweets like blueberries or cherries. They can be boiled or fried, and are really good!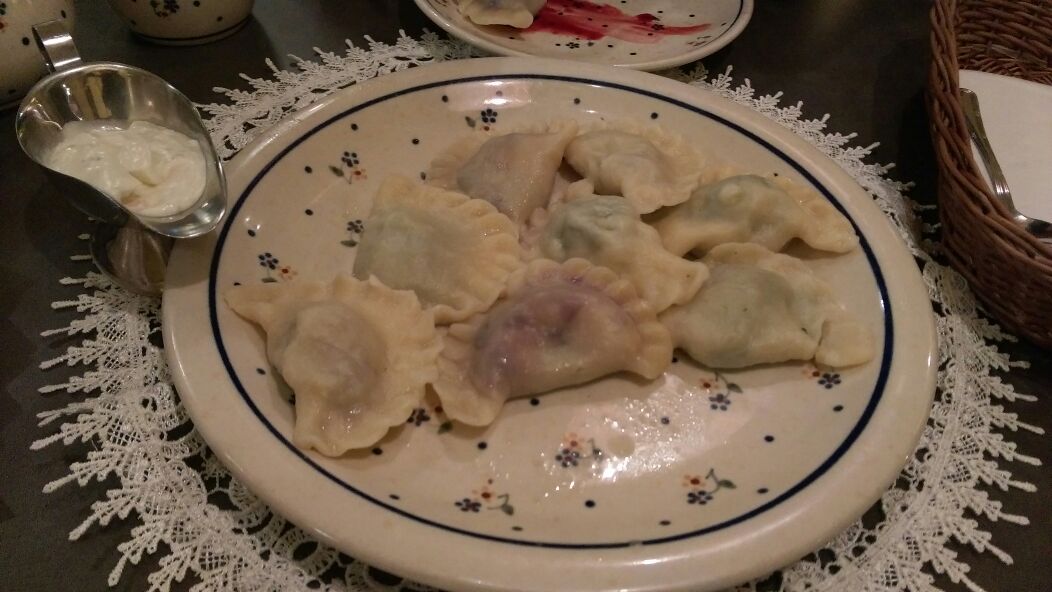 Poland is not in the EURO zone so we had to exchange some money. The currency there is Złoty and is around 4.2 to 1 EUR, but restaurants and all are somewhat cheap in comparison to other capitals in Europe. You can get a cocktail at a bar for around 3 to 4 EUR.
The next morning we fought our instincts of staying in bed the whole day running away from the cold and wind and joined the Warsaw Free Walking Tour, from the same company as we did in Danzig. Warsaw was up until this point a big disappointment, the architecture is not amazing and there was not much we found to see. But after the tour we just learned that 99% of the city was destroyed during the WWII and the pieces of city that remain have been reconstructed and are the main tourist point in Warsaw. It is really small center but with loads of history, included how the city got its name.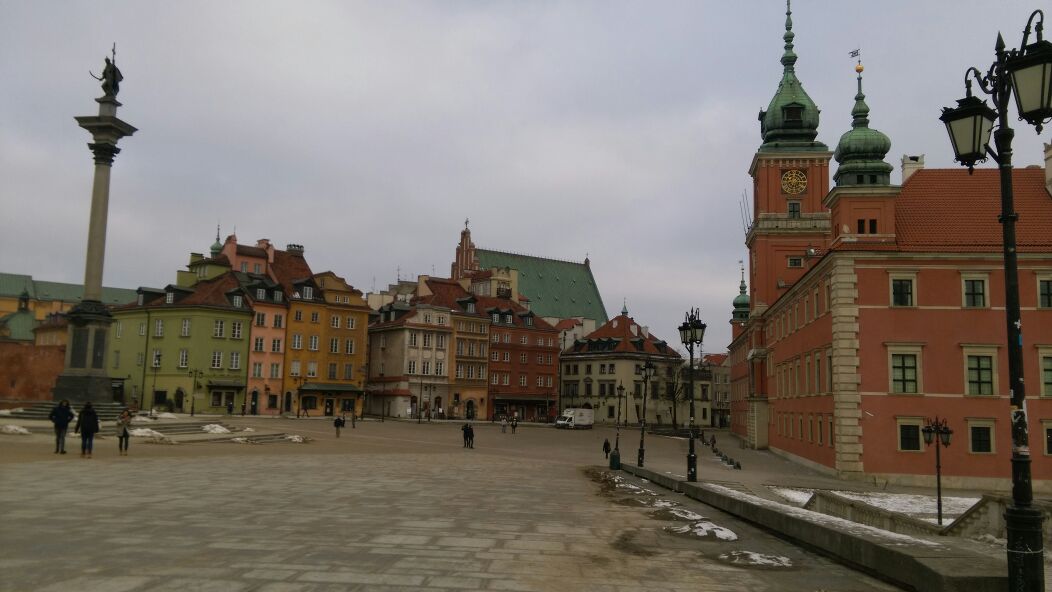 There are lot of versions of how the city got it's name, the one we heard was about a couple name Wars and Sawa that in times of need made a prince (without them knowing it) feel welcome at their place and safe from the cold night, the prince then decided to name the city Warsawa to show his gratitude and simbolize the amazing people in the city.
Also during the tour another legend came up, this time: The lucky bell. Our guide swears by his life that the legend is real. It works like this: For a little wish you have to circle around it jumping in one leg and if you have a big wish, like a job or finding love you should do the circle 3 times. I didn't waste any time (although I waited for people to stop watching) and did my 3 circles for my really huge wish.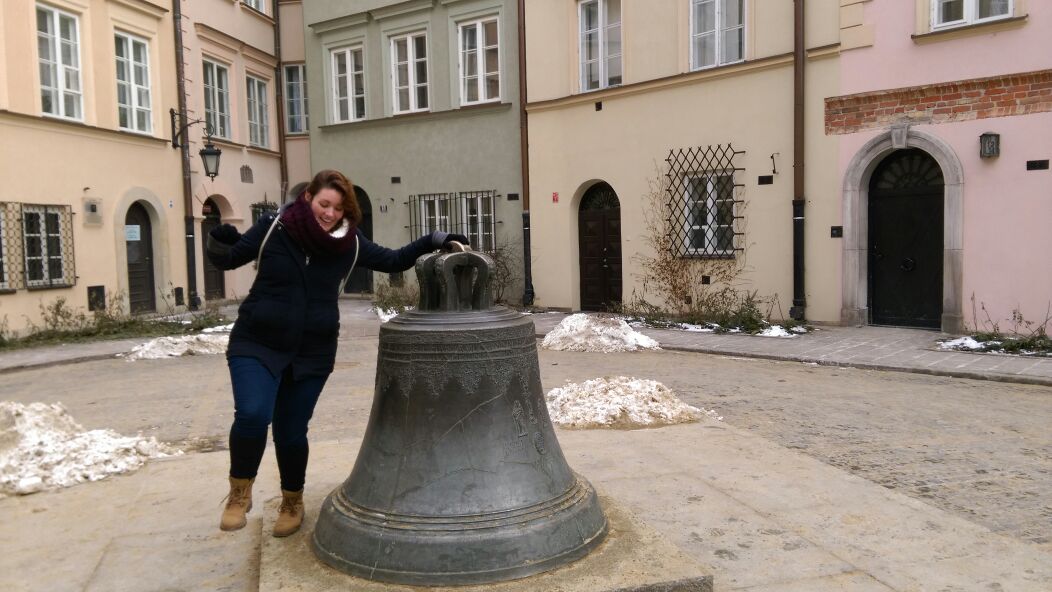 Warsaw is also the city of Chopin and around the city, benches playing his compositions can be found. But, to be honest, winter is not the best time to enjoy this wonder of the city. Another sighseeing point of the city is the Warsaw Ghetto, where german and polish jews lived in fear and were executed innumerous times in Warsaw. At the end of the known ghetto you can find the POLIN (Museum of the History of Polish Jews) where you can find out more details about everything that happened.
Warsaw is also o good place to shop as it has most stores one my need including Sephora that I only found out minutes before taking the train and was really upset about as they are still not in Germany. Even being a touristic city we didn't find the service in restaurants to be particulary good. We actually felt really unwelcomed, as soon as we finished what was on our plates the bill was brought (without us asking) as they just wanted us to go away.
The last thing we did was get to the rooftop of the Pałac Kultury i Nauki I mentioned before and enjoy the rainy view of the city. We left Warsaw to be a bit dissapointed, we sincerly were waiting more from it, as it was described to us as the future Berlin with loads of life and culture, we might have to come back when the weather gets better or maybe you just need more than a weekend to get to know the city.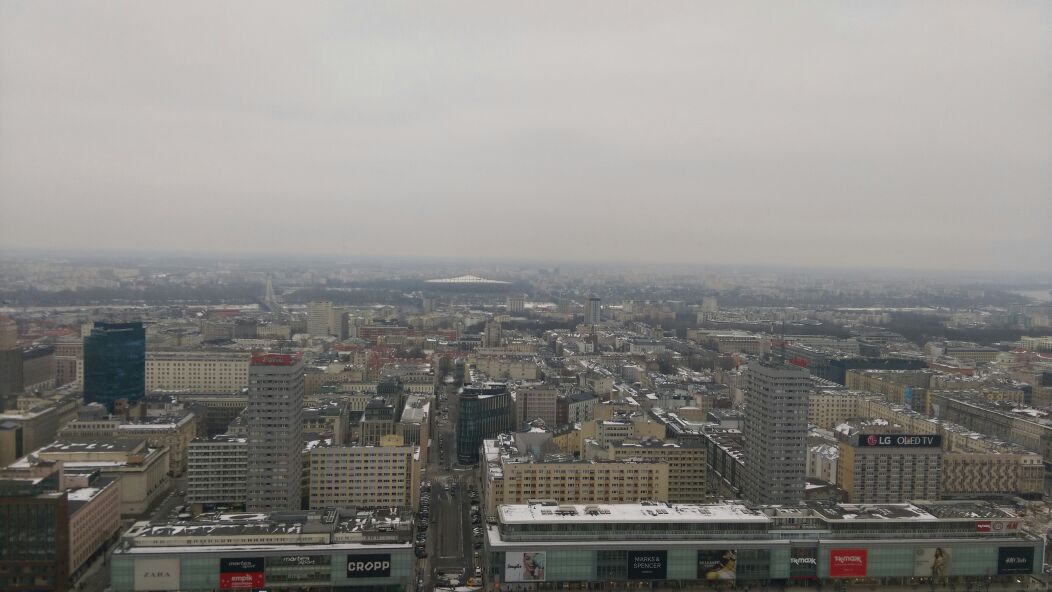 We spent our last Złotys on the train restaurant for a beer and a Zùrek soup and made our way back home.
Have you ever been to Warsaw? Do you have any other tips for us?